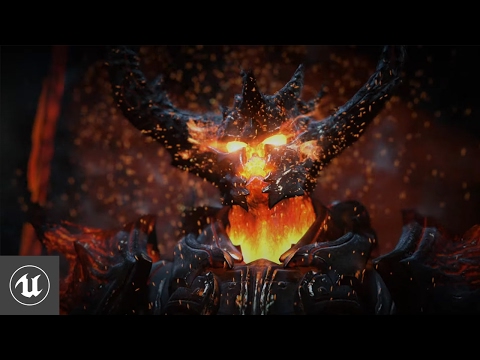 Hello people of the interwebs. Joel here your tech writer and overall graphics whore. Well its been a few days and I have been trying to break down the latest trailer for the Unreal Engine 4 UDK. It has been nothing but amazing since its initial demo at GDC this year and the behind closed doors demo at E3 2012. So now that you've taken it it, shall we go through it and point out a few things…
First, these are just my own opinions but some people might also relate to my points. The demo is great, depicting awesome lighting effects, lava, liquid, particle effects and volumetric smoke effects that also combine with the interactive lights in the surrounding scenery. Unfortunately, we didn't get a real feel for the level of realism that we can acquire from a more "true to life " model like last year's Samaritan Demo which sported the 3.5 version of the engine. With the Samaritan demo, you got a clear picture for the level of detail in the model's face and hair as well as several other effects with lighting and tessellation.
Unfortunately, even for the break down of the Elemental demo (video above) there was hardly any showcasing for all of this and even though you could point it out with your own eyes, I think for the general public to really get what was going on, it would be essential to show different modes to really show the complexity of a scene. It would have been nice to see things like the wiremesh view to see what was being rendered in the background the and sheer complexity of the model itself from different distances and levels of tessellation.
Also, the outside view was vast and full of detail with the snow particle system and corrective lighting and color demonstration. But with the general population still being use to things being rendered in CG for large scale environments like this. Still, I think Epic is aware and might be holding back the crown jewel of demonstrations for the next big even or maybe even for that "Dedicated PC" game Cliffy has been promising. We'll have to wait and see but for now, enjoy the Elemental Demo in full 1080P and how this demo ran from a single Nvidia 680 GTX. Start building your rigs around this people… things are coming.